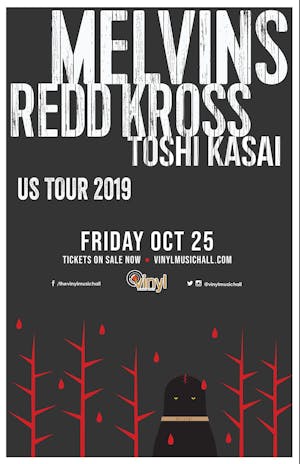 Vinyl Music Hall Presents The Melvins, Redd Kross, & Toshi Kasai
* General Admission * Standing Room Only- If Seating Is Available, It Will Be Limited And On A Strictly First Come/First Serve Basis * No Re-Entry * All Ages Event * Additional $5 Cash Surcharge At The Door For Attendees Under 21 * Attendees Under 16 Must Be Accompanied By A Ticketed, Adult Guardian *
For those who don't know:
The Melvins have been a band for over 25 years...
The Melvins have done a shit load of albums.... How many is a shit load? No one really knows.
The Melvins live in Los Angeles and it's understood in hip circles that the United States tilts left and anything covered in slime tends to slide straight out to California. If your sliding too fast when you slide into San Francisco you tend to glance off south and the real scum bags end up in Los Angeles where their skin dries into a Malibu Ken tan which most hipsters have to painstakingly remove with Easy Off oven cleaner.
We all love porn right? And with the internet we've all become totally bored with porn. Bored out of our minds with easy access day and night internet porn.
The Melvins have four members. King Buzzo... Longest surviving and only original member left. When they get around to replacing him there will be no original members! Dale Crover... Long standing drummer and part time guitar player. Dale likes his booze in a High Ball glass. Jared Warren... Bass player, singer and part time drama geek. Jared also plays in the band Big Business. Coady Willis... Drummer. Coady has a funny story about trying to play a gig in leather pants. Ask him, it's funny as shit! Coady also plays drums in Big Business.
So there you have it!
You can find other interesting bits and bobs about the Melvins on line and some of it is even true! Well, it's at least as true as what the band would tell you in person.
Redd Kross have always been too good, too perfect, too true, to believe. Mythic. Could this tuneful hardcore punk EP really be the work of a brother band with the 15-year-old on vocals and guitar and the 11-year-old on bass? Did Redd Kross really open for Black Flag? Could Jeff and Steve really have been born and raised in the Beach Boys' hometown of Hawthorne, California, and did Jeff really see the Beatles live in 1966? Did one of them, dressed in Gene Simmons makeup, really kill a Bruce Springsteen impersonator onstage? Is that really their hair? Could Researching the Blues, their first studio album in 15 years, be not just the hottest thing since Cher went solo but the best start-to-finish Redd Kross record ever?
Somehow, the answer to all the above is improbably, wonderfully, beautifully YES. Long have Redd Kross rocked, and long have critics, devoted fans, Rodney Bingenheimer and fellow musicians from Seattle (Nirvana) to New York (Sonic Youth) to Driftwood, Texas (Butthole Surfers) to Hollywood (everybody) bowed before the Kross and their self-aware pre-spandex Glam bubblegum garage psychedelic Cheap Trick/Kiss/Revolver post-Kim Fowley rock and roll. Degenerate, sweet: tongues in cheek, song-long winks.
Commercial success may never have been theirs (if time and space had been aligned correctly, they'd have been blitzing ballrooms in the early '70s instead of opening for Stone Temple Pilots in the early '90s), but Redd Kross have endured and endeared because they've always had the best possible attitude: smarts, smiles, and total commitment to live hair-spinning showmanship.
Like fellow legendary Great American John Waters, they've devoted their career to making subversive entertainment in a high pop celebrity style, reintroducing in their especially golden late '80s/early-'90s period such forbidden classic-rock tropes as melodies, harmonies, ripping musicianship, and primary colors-stuff that had (largely) been ditched in the underground rock's post-punk, No Wave, hardcore, and sensitive-egghead scenes. Redd Kross then spent the '90s making one great misunderstood record after another until enough shit had caked the fan that in 1997 they pretty much called it quits.
But you never quit being brothers. And so here's the next Redd Kross album-produced and mixed by younger brother Steve earlier this year after it was mostly written by older brother Jeff in 2007-08, and recorded in that same period with the band's current lineup, who've re-engaged in live performance since being lured back into action by an excitable Spanish promoter.
They're too nice to say so themselves, but attention must be paid to this band, to this great album, Researching the Blues, which, like a pair of great pants, is tight and the perfect length. By the time you're two minutes and 51 seconds into the second song, "Stay Away From Downtown," and the band is breaking into the sha-la-las, you will be running around the room with your hands in the air. As the fourth song, the Brian Wilsonian "Dracula's Daughters," ends and the dynamic mid-'60s Beatles jingle "Meet Frankenstein" launches into its first chorus, you will be mass-texting all of your friends with the good news. By the final four songs-"The Nu Temptations" (Stooges-worthy riffs! Cowsills counter-harmonies! And more!), the "Surrender"/Noel 'n' Liam rockers "Choose to Play" and "Winter Blues," and the stunning summer psychedelic power pop that is the closing "Hazel Eyes"-you will know the truth. You tried the rest-but now you've had the best. The McDonalds were educated at Rock 'n' Roll High, and they've stayed true to their school. Here's to their beautiful reunion! Redd Kross Forever!
American guitarist and producer.
The former Big Business guitarist and regular Melvins collaborator has a long history of engineering and/or producing top-tier rock bands - the bathroom in his Sound Of Sirens Studio is decorated with platinum records honoring his contribution to albums by Foo Fighters and Tool, but when it comes to the creative process, Kasai prefers to let the artist lead the way.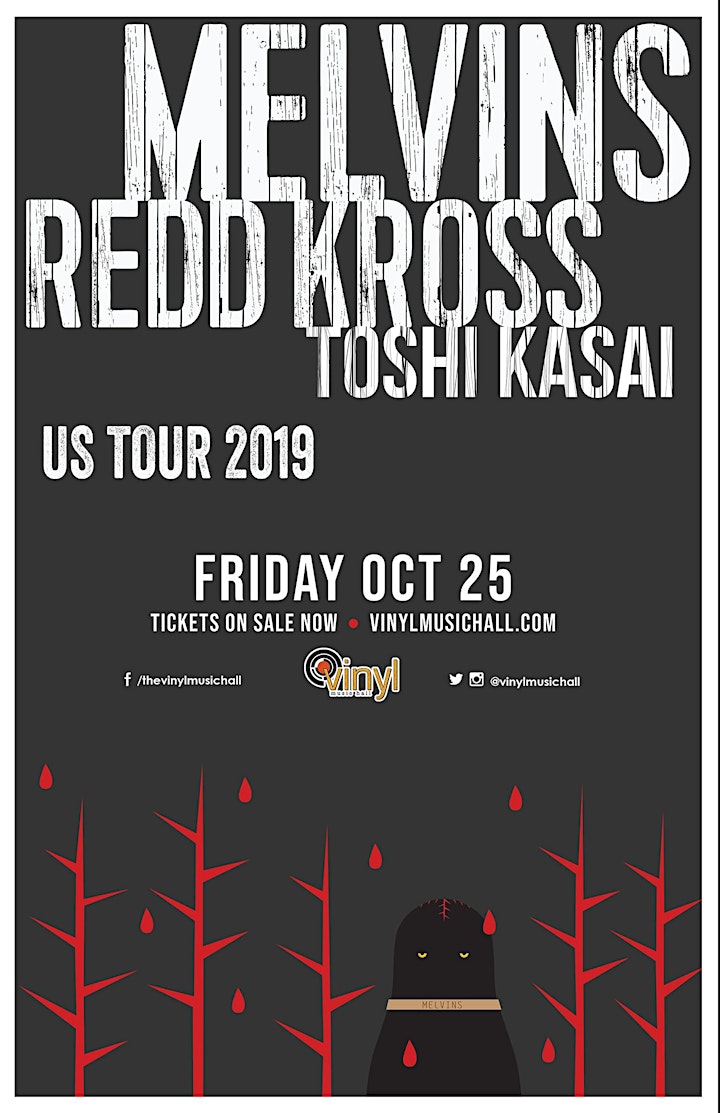 Venue Information:
Vinyl Music Hall
2 S. Palafox St.
Pensacola, FL, 35202